February 1, 2023 marks the 37th annual National Girls & Women in Sports Day, during which the country celebrates women's contributions to sports while acknowledging past and current struggles for equality in women's sports. This past summer, we celebrated the 50th anniversary of Title IX, the landmark law supporting female participation in education-based programs. The passage of Title IX led to a movement here in Tennessee, where now more than 51,000 female athletes compete annually in 10 sanctioned TSSAA and TMSAA sports. During the last school year, 43 girls' teams and 269 female individuals claimed state championships in these 10 girls' sports. Yet on June 23, 1972, when the law was passed, there were only two sanctioned TSSAA girls' sports with state championships: basketball and tennis. With the passage of this legislation, schools in Tennessee and across the country rapidly expanded options for girls' sports. Subsequently, the TSSAA Board of Control and Legislative Council sanctioned a number of additional girls' sports and created state championships in the following: track & field (1974), golf (1975), cross country (1975), volleyball (1976), softball (1979), soccer (1986), bowling (2002), wrestling (2015), and most recently, dual wrestling (2022).

As a tribute to those who laid the foundation for the opportunities afforded to today's students, TSSAA has honored the women who played and those who coached in the first girls' state championships in their sport during the 2022-2023 school year.
2007 Individual Bowling State Champions Jacqueline Fillion and Megan Alcott Overman
During the Volleyball State Championships on October 21st, twenty members of the 1976 to 1980 Kirkman Technical High School volleyball teams were in attendance to be recognized as the first TSSAA volleyball state champions. We welcomed Charlotte Grant, winner of the first individual and team girls' golf state championship in 1975 for Girls Preparatory School, to the Girls' Soccer State Championships on October 28th. We also recognized Gary Shrader, head coach of the 1986 Franklin team that won the first girls' soccer state championships, on October 29th. Most recently, at the Bowling State Championships on January 18th and 20th, we honored 2007 girls' bowling individual champions Megan Alcott Overman of Hardin Co. High School and Jacqueline Fillion of St. Benedict, as well as the 2002 Mt. Juliet team, represented by bowler Annie Pelfrey Smith and coach Marsha Curran.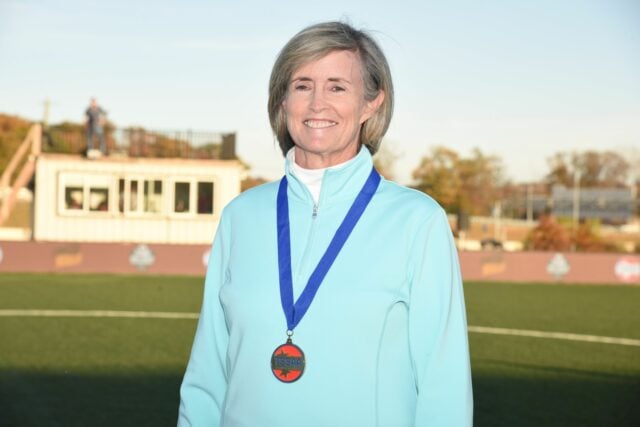 Charlotte Grant, 1975 Girls' Golf Individual and Team State Champion
Gary Shrader, Head coach of the 1986 Franklin HS Girls' Soccer State Champions
TSSAA intends to continue these important recognitions for the remainder of the school year, with plans to honor the following at upcoming state championships:
The 2022 Rossview High School girls' dual wrestling team

The 10 women who won the first girls' wrestling individual championships in each weight class in 2015

The first basketball teams (Pickett Co., Marshall Co., and Pearl High Schools) to win state championships following the change to the full-court game for the 1979-80 season, as well as the first-ever girls' basketball state champions from 1958 (Loretto High School)

The 1979 softball state champions (Richland, Giles Co., and East Ridge High Schools)

The 1974 individual and team (Manchester High School) girls' track and field state champions
We still need help in locating some of these champions for basketball, softball, and track & field. If you know anyone on one of these teams, please encourage them to contact us at titleix@tssaa.org.