Tennessee high school football begins anew this week with the kickoff of its second season, aka the TSSAA State Football Playoffs.
And the 2019 edition of the playoffs, which will crown nine state champions in Division I Classes 1A-6A and Division II A, AA and AAA, marks the 50th anniversary -- and 51st season -- of TSSAA's first-ever batch of playoff champions.
"You can make an argument that there's too many classifications, but one thing I remember so distinctly, and I remember Mr. (Gill) Gideon (former TSSAA executive director) talking about this, when schools met to discuss whether to add in the region runner-up in the playoffs you can imagine the real reluctance by schools," said Ronnie Carter, who served as TSSAA Executive Director from 1986-2009. "Back then, who had ever heard of four weeks of playoffs? But they're also caught in a dilemma because of what it is doing to schools in the regular season.
"There was a principal at a Regional Meeting in Knoxville, and I wish I could remember his name, but he got up and said, 'I was not an athlete, and I didn't coach, so I don't understand sports real well. But I've been a principal in three high schools and I know what athletics does to a school and I know it just makes a school better. In particular, I know schools with a good football year gets school going better; there are fewer problems, less trouble in the hallways and the bathrooms and so I'm gonna urge us to vote for sending the runner-up team.' I've never forgotten that explanation."
"I've been a principal in three high schools and I know what athletics does to a school and I know it just makes a school better."
Now, the top four teams from each region oppose the top four teams from a corresponding region, with hosting privileges going to the higher-seed team. Seeding reigns supreme until the third and fourth round, when hosting rights are predetermined on a rotational basis. The 1969 playoffs boasted 12 teams across three classifications: A, AA and AAA. By 1972, there were eight teams advancing to postseason from each class, and it grew again in 1985 to send 32 teams -- from still three classifications. In 1993, the TSSAA expanded to five classifications and the first-ever 6A State Championship was won by White Station High School of Memphis in 2009.

The BlueCross Bowl State Championships are celebrating a decade of being hosted at Tennessee Tech's Tucker Stadium since 2009, with previous classics being held on the campuses of both Middle Tennessee State and Vanderbilt.
Carter remembers a time when any kind of football playoff wasn't a sure thing, but clearer still recalls the formation of a mutually beneficial partnership with Nashville's Junior Chamber of Commerce to boost the prominence of the Clinic Bowl, predecessor to the modern BlueCross Bowls.
"The gentlemen, Charlie Warfield and Scooter Clippard, made the proposal and then leave, and I said to Mr. Gideon, 'They can't do this. Number one, for the impact it's gonna have on schools. They're used to hosting these games,'" Carter recalled. Prior to 1982, all rounds of the state playoffs — including the championship game — were hosted by member schools. "So basically we took the greatest gates in all those years, AAA, AA and A, took that figure and went higher than that because we had to be able to show schools they would be able to do much better financially. Then again, we both looked at each other and said, 'They can't do this. Too much money.' But we meet again, showed it to them, they looked at each other and said, 'We're in' and they commit."
Warfield remembers the meetings prior to the 1982 season and a robust membership role for Nashville's Junior Chamber playing a key role.
"The thing the Junior Chamber had, one, we had good people with good planning. Membership was about 600 people and very active," Warfield told the TSSAA. "What we could bring to the table was organizational skills, but we also had a lot of people who could show up on a night to help with concessions, programs, ticket sales, and it was a big-time event for us.
"As Ronnie told Mr. Gideon, he didn't think we could pull it off. We raised a good bit of money from program sales just for the state championships, because it had been going on for so long. We had the ability from a human standpoint to reach out and get the money to make it work."
Warfield's group also had the wisdom to combine celebrity power and an additional event: the Clinic Bowl Run. The honorary chairperson in 1982? None other than Sarah Ophelia Colley Cannon. AKA, Minnie Pearl.
"Scooter's family had known Minnie Pearl, whose name is Ms. Cannon, so Scooter went and asked if she would participate and she was our chair," Warfield said. "We had a Clinic Bowl Kickoff Dinner and she was our dinner speaker, as I remember it. I don't remember for sure but I want to say she was there at the game. She was really active with us and was very helpful."
Then, in 1982, the inaugural year of this new partnership, the TSSAA and Clinic Bowl got what perhaps at the time was the ideal matchup: Gallatin versus Lincoln County, a pair of Class AAA titans.

"In AAA, we end up with Gallatin playing Lincoln County and it ends up going into overtime; Lincoln County beats Gallatin, and the place (Vanderbilt Stadium) is about full," Carter recalled. "That proved the football championships at the central site was a great idea. It stays like it is with the Clinic Bowl until eventually all the championships move to Murfreesboro by 2005 and then on to Cookeville in 2009. But that first game was what establishes the central site, having all the championships in one place. That 1982 game, that's what kicks big."
1982 Class AAA State Champions - Lincoln County High School
Video: Lincoln County vs. Gallatin

Added Warfield, "We hit the mother lode in that back then that was the two best football teams in the state, and schools who traveled. It's kind of like, 'Do you want to have the University of Kentucky in your Final Four?' Yes, you do, because they bring everybody in town.

The rest? Well, it's history. And the next book gets it first chapters written this week.
But before we go, a bevy of media from across the state of Tennessee share their fondest memories of the TSSAA State Football Playoffs.
John Varlas, Daily Memphian
I think for me the game I'll always remember is Whitehaven winning its first-ever state title in 2012, 36-35 over Maryville in overtime. Mark Dodson (who should have won Mr. Football that year; it went to Jalen Hurd instead and I'm still sore about that one) ran for 306 yards and scored all five touchdowns.
On the game-winning two-point conversion, Whitehaven lines up in the old smokestack-I for probably the only time that season and Dodson sweeps it in untouched for the win. Cue wild celebrations with Whitehaven fans storming the field (you can easily find the video on YouTube). That's the game I'll always remember.
2012 Class 6A State Champions - Whitehaven High School
Maurice 'Mo' Patton, Columbia Daily Herald

I think Columbia's 2010 win over Hendersonville in the 5A finals, just hours after one of their kids had died of cancer, was one of those stories that transcends sports. In 2015, MBA vs. Brentwood Academy in double overtime was crazy for the cold and the talent on the field.
Murphy Fair, MurphyFair.com
The state championship in 1989 was referred to by many as the "Ice Bowl." The first game of the day featured DCA vs. Bruceton-Central. When everyone got to the stadium there was ¼ to ½ inch of ice on everything. . .the field, the bleachers, everywhere. I distinctly remember Ronnie Carter, who was Executive Director at the time, out there on the field with a snow shovel trying to help clear the field of the ice. Everyone from Ronnie to numerous Junior Chamber volunteers on down were out there with hammers and shovels trying to break up the ice so that a high school football championship game could be played.
Tom Kreager, Tennessee High School Editor, USA Today Network
I was covering the 2012 Class 6A semifinal game at Siegel when QB Brent Stockstill hobbled through the game against Maryville. Even with only one good leg, Stockstill threw for 373 yards and four touchdowns in a 47-43 loss.
Stephen Hargis, Chattanooga Times Free Press
In 2000, Red Bank made one of those magical runs where the team was inspired to give a little extra for their coach, Tom Weathers, after his wife had passed away just before the season from cancer. Shortly before she passed, Mrs. Weathers wrote a letter to the team saying how proud she was and how much they all meant to Coach Weathers and to go out and play hard. A different senior would read the letter before every playoff game and, as you can imagine, it was pretty emotional in the locker room each time. During warm-ups before the 5A title game (they were about to play Riverdale at MTSU) it starts to snow and keeps snowing for pretty much the whole game, blanketing the field. It just added something extra to the atmosphere of the game and the thing that stands out to me more than anything was watching Red Bank players laying flat on their backs making snow angels as they were celebrating winning the championship. Those kids just being kids and having fun as a team is what prep sports is all about to me. Pretty cool scene after finishing off a 15-0 season with a title together.
As a dad, the only other one that comes to mind was watching South Pittsburg win a title in 2010 and seeing my son, who was a senior at the time, run out on the field with his teammates to accept the championship trophy. I don't think I've ever seen that kid so happy as he was at that moment, holding up the gold ball trophy.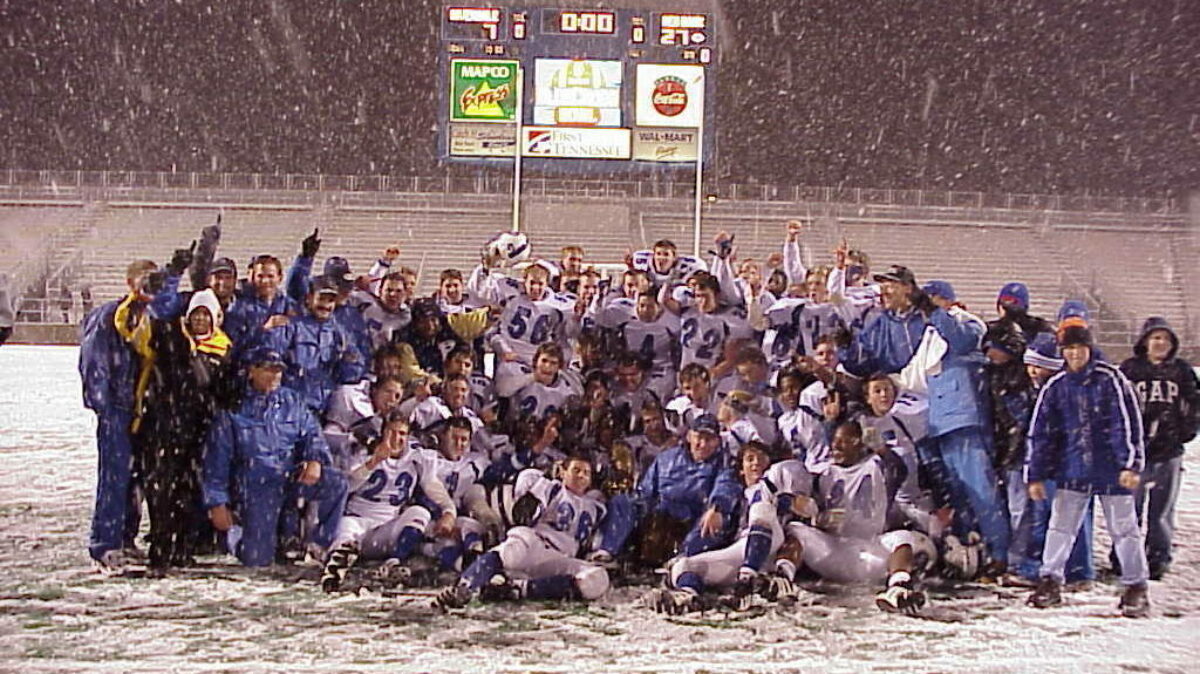 2000 Class 5A State Champions - Red Bank High School
Jesse Smithey, 5StarPreps.com

The playoff story I think back upon the most has nothing to do with a team in my coverage area anymore, but it perfectly exemplifies the spirit of, 'Anything can happen in the postseason.'
Fulton High School won consecutive 3A titles in 2003 and 2004 and entered the 2005 season with plenty of talent to win a third in a row. Meanwhile, Knoxville Catholic, led by future Mr. Football and now Minnesota Vikings safety Harrison Smith, unseated Fulton in the second round and looked well on their way to their first state championship in program history.
But 2005 was the first year of a new classification cycle, and somehow Livingston Academy wound up in a region with the likes of Austin-East, Fulton, Catholic, Scott, Anderson County and Kingston, despite Livingston Academy being a good 100 miles away from most of their new league foes.
And while Livingston Academy showed well in the 2005 regular season and played tight games with Catholic, Fulton and Austin-East, they still wound up finishing 5-5 (3-3 in the region). No one, including me at the time, gave them much of a chance in the playoffs. I personally watched Livingston Academy's then-QB Wilson Cates lead a heroic charge in the final minutes against Carter just to fend off first-round elimination.
But then, momentum happened.
Livingston Academy beat Austin-East, 18-15, in the second round. They shocked Catholic, 24-20, in the state quarterfinals. The Wildcats outlasted Notre Dame by two scores in the semifinals.
And as I walked into MTSU's Floyd Stadium on the afternoon of Dec. 3, 2005 to cover a game that night, I heard the crescendo of crowd roars by Livingston Academy fans as they enjoyed the final plays of their 28-13 win over Lipscomb in the 3A state championship game.
Incredible and unthinkable.
Fulton went on to win 3A the following season. Lipscomb Academy took the crown in 2007, and Catholic in 2008.
But that one season, in 2005, Livingston Academy played spoiler.
2005 Class 3A State Champions - Livingston Academy
Marcus Fitzsimmons, The (Maryville-Alcoa) Daily Times

Going to be a tie. Maryville's epic comeback against Ravenwood in 2014 and the Alcoa one-score title game against CPA. We had to turn 'How They Scored' into 'How They Didn't Score' (for the newspaper), listing how all the drives ended with stellar defenses on both sides.
Seth Butler, Newport Plain Talk
In 1997, I was in 8th grade and followed the high school football scene pretty good. Probably a good sign that I was gonna be involved in media.
Cocke County started 0-6 but won three of last four to get into the playoffs, including a goal-line stand in the must-win season finale. The turnaround happened when they played a freshman running back named Bubba White.
The first round game was at Tennessee High. The team was down 7-6 late in the game when Tennessee High punted. The snap went over the punter's head and he booted it through the back of his own end zone. Cocke County won, 8-7 with the safety.
We went to Daniel Boone the next week and gashed them with the freshman. They put sand down between the hashes to try to slow them down.
So a 3-7 team made the quarterfinals and hosted a home playoff game the next week. They lost to the Witten Brothers (Jason and Shawn) and Elizabethton.
Chris Thomas, Detroit Free Press (formerly Knoxville News Sentinel)
Let's go with T.D. Blackmon's heroics in the 2014 Class 6A championship game. It went like this: Blackmon, as a sophomore, blocked Ravenwood's game-winning field goal attempt at the end of regulation, then he intercepted Cole Brown's 2-point pass in overtime to clinch Maryville's 15th state title.
Maryville won the game, 35-34, after trailing 28-7 in the first quarter. To add to the intrigue, it ended up being the final state championship win of George Quarles' legendary coaching tenure.
As for Blackmon, he isn't the fastest or tallest or most athletic linebacker I've ever covered. But he is by far the most instinctive. It's not even close.
Steve Wilmoth, TriCitiesSports.com
Greeneville 35, Sullivan South 28, 2OT - a 2008 Class 4A Quarterfinal Game at frigid, FRIGID, Burley Stadium in Greeneville.
The game was an epic two-overtime thriller with three lead changes and neither side leading by more than seven points. Tied at 21-21, South appeared to have scored on a Taylor Fletcher touchdown run of about 35 yards, but was called back due to holding that I haven't seen yet. A late game-winning South FG attempt was then blocked. South scored first in the initial overtime on a Fletcher four-yard run. Greeneville lost three yards in its first play in overtime, but a pass interference call on second down gave the Devils new life and another set of downs at the Rebel six. Two short Jeremy Barner runs followed before disaster nearly struck. On third down, the snap from center sailed over quarterback Trevon Hall's head and was eventually recovered by Chaz Story. However, it pushed Greeneville back to the 11 for its fourth-down attempt. Hall kept the Greene Devils' season alive by finding Ryan Fillers, who leaped high in the back corner and legend has it somehow managed to find the end zone on the way down. The PAT send the contest to a second overtime.
Hall scored on Greeneville's first play of the second overtime. Looking for the tying touchdown that would send the epic battle to a third overtime, South running back Taylor Fletcher's second-down catch of a short pass from quarterback Bradley Davenport ended just short of the goal line. With two downs to cover the remaining three feet, a third extra session seemed inevitable. However, two straight bursts into the center of line by Fletcher were turned away, giving the Greene Devils their first semifinal berth since 2000.

Jim Thompson, CoachT.com
Speaking of the Clinic Bowl, one of my earliest memories of football is traveling with my family to the 1964 Clinic Bowl. Lawrenceburg and Glencliff had both gone 10-0 that season and were invited to play in Nashville. I was only 11 or 12 years old at the time, growing up in Lawrenceburg.
The town rented a train, a whole passenger train, to make the trip and so a lot of us rode the train up to Union Station in Nashville and then buses took us over to Dudley Field for the game. It was about a three hour trip on the train, which wasn't much longer that it would take to drive at the time.
The Glencliff quarterback was Bubba Dudley. There were a lot of good players on those Lawrenceburg teams, but I'll never forget Lew Heller who was one of the stars that year. The papers called him "Lightning Lew." He'd run tailback out of the single wing and was hard to catch if he got loose.
The game that day ended in a 7-7 tie, but that train was awesome.
Cover photo: 1969 Class AA State Champions - Loudon High School