Barbara Campbell, 2017
Quite simply, she only ever wanted to make a positive impact on her players, her program, her school and her community.
Oh, Barbara Campbell did so much more in a transcendent, record-setting run that spanned parts of four decades across 33 years at the helm of the Brentwood High School volleyball program.
Now Campbell is being recognized nationally for what so many throughout the Volunteer State and the volleyball world long have known: Campbell is a hall of famer.
Campbell was inducted into the National High School Hall of Fame as part of the Hall's 2023 class on Saturday, July 1, 2023. She was one of 12 inducted in this year's class, which included four athletes, headlined by former University of Tennessee basketball star Tamika Catchings. Other athletes inducted were Carlos Boozer, Clarissa Chun, and Maranda Brownson. Others inducted in this year's class were:
Coaches
Sue Butz-Stavin
Ted Ginn, Sr.
Allan Trimble
Sister Lynn Winsor

Contributor
Dave Carlsrud

Administrator
Dave Stead

Performing Arts
Bill Webb
The accomplishments of all the inductees can be found at https://www.nfhs.org/articles/...
"I was very honored when I received the news, but the absolute first thing I thought of was my players," Campbell said. "They won this with me, they won this for me. I believe that from the bottom of my heart. I'm just very, very blessed.
"There's a lot of great coaches out there, and I feel very, very honored."
Campbell, who was inducted into the TSSAA Hall of Fame in 2018, became the 14th inductee and seventh coach from the state of Tennessee in the 40 years since the Hall's 1982 founding. Previous Tennessee inductees include Rick Insell, Catherine Neely, Lamar Rogers, the late Jim Smiddy, the late Buck Van Huss, and the late Boyce Smith, all coaches. The late Bill Pack was inducted into the Hall of Fame as an official, as well as the late Billy Schrivner of Jackson and the late Ralph Stout from Mountain City. Ronnie Carter, former Executive Director of TSSAA, was inducted as an administrator. Anfernee "Penny" Hardaway, Nikki McCray-Penson, and Steve Spurrier have all been inducted as athletes from Tennessee.
Campbell boasts an unparalleled trove of accomplishments, including:
Sixteen all-time Tennessee Secondary School Athletic Association State Volleyball Championships, including an astounding eight-straight crowns from 2013-20.
A career mark of 1,765 victories in her 33 seasons at the helm of the Lady Bruins program, by far a state record and among the winningest coaches anywhere in the United States.
Six all-time Gatorade Tennessee High School Players of the Year, individual honorees in a program that has sent its players to programs the likes of Alabama, Furman, Notre Dame, Northwestern, Tennessee and myriad other schools, as well as former stars who earned the opportunity to play the sport at a professional level.
In sum, for the duration of Campbell's decorated coaching career, 51 percent of all Lady Bruins' volleyball players garnered athletics scholarships to continue to play the sport in college.
Testament to Campbell's interwoven fabric of the Brentwood community, she coached 65 sisters from 30 different families as part of her program's self-ascribed "Sister Act."
She also coached all three of her daughters, Kendra, Keri and Courtney, their own decorated playing careers spanning from the end of the 1980s through 2000; each daughter won at least one state championship.
Campbell, perhaps, is most touched from the residual impact; legion of her former players reinvesting in the game, be it coaching at the club level or at the high school level and beyond.
"I've got a lot of former players who are giving back, coaching in schools or in clubs, they're coaching; they call me all the time for drills," Campbell said. "They'll ask me, 'Coach Campbell, what would you do?' That's very heartwarming, too. I'm really proud of that, too. They gave back and that just warms a coach's heart. I think it's awesome."
"We are extremely happy for Barbara and her family," stated Mark Reeves, Executive Director of TSSAA. "She has been such a well-known and respected coach in Tennessee. The contributions she has made to Brentwood High School and the sport of volleyball are countless. We are honored to have her represent our state as an inductee into the National High School Hall of Fame. This is a very proud moment for the state of Tennessee and TSSAA, but most of all, it's a proud moment for Barbara's family. We appreciate all of her years of service as a coach and educator in Tennessee and the impact she's had on the lives of so many student athletes."
A fierce competitor, Campbell gleaned satisfaction from adapting and evolving alongside her sport, from its nascent days to its blossoming popularity.
"I think one very motivating factor for me staying so long, I fell in love with the game and I loved developing teams and I am very competitive, love the competition, but in the beginning, we played to 15 points, you had to be two points ahead and there was no rally scoring," she said. "I got to see the gradual growth and change in the sport, all of it for the better. But that, too, was motivating.
"Things changed a little bit, so you'd have to relearn and refocus but having my daughters on the team was extremely motivating and so helpful in that I had to give it my best. And we always wanted to travel to the best tournaments that we could, developed tough schedules that were demanding. And I couldn't have done it if my girls weren't with me and we were doing it together."
Oft-forged on the banks of the Ocoee River during the team's regular preseason bonding excursions down those white-water rapids, Togetherness, within the Campbell family and that of the Lady Bruins' program, is perhaps the defining trait of this record run of endurance.
Campbell learned more about herself, as well as her players, in the aftermath of those ever-rare losses.
"The titles do not make a dynasty," Campbell said her former players had told her after her retirement two years ago. "Titles plus losses make a dynasty. The losses lit a fire in the Lady Bruins. I know any loss lit fires under my own kids; you could just see them working harder, and coming up short would burn in the hearts of my girls.
"If we took a loss, it was just to the core and would make us want to work harder because our goal was always that state championship. You really learn from your losses, and they tell you what your weaknesses are."
Spoken, well, like a Hall of Famer.

Barbara Campbell with player (2019)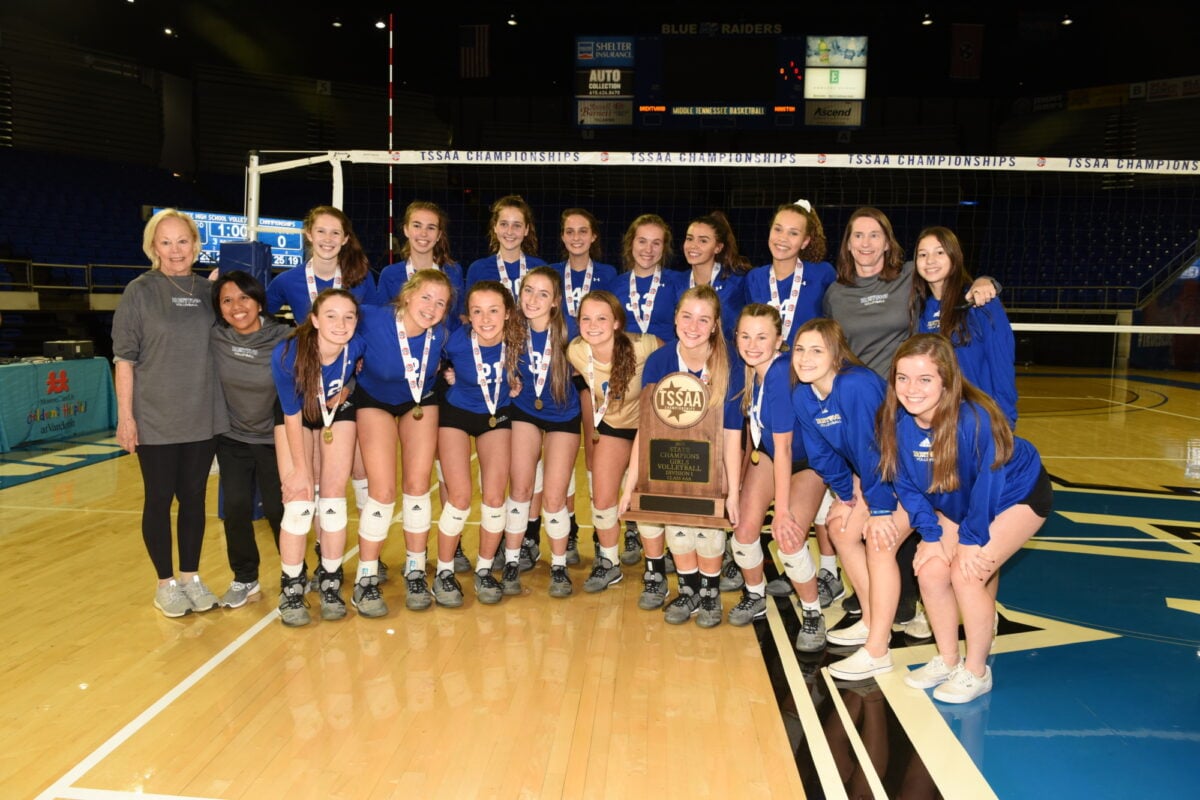 Brentwood volleyball team (2019)
Brentwood volleyball team (2020)
The National High School Hall of Fame was started in 1982 by the NFHS to honor high school athletes, coaches, contest officials, administrators, performing arts coaches/directors and others for their extraordinary achievements and accomplishments in high school sports and performing arts programs. This year's class increases the number of individuals in the Hall of Fame to 506.
The 12 individuals were chosen after a two-stage selection process involving a screening committee composed of active high school state association administrators, coaches and officials, and a final selection committee composed of coaches, former athletes, state association officials, media representatives and educational leaders. Nominations were made by NFHS member associations.
About the National Federation of State High School Associations (NFHS)
The NFHS, based in Indianapolis, Indiana, is the national leadership organization for high school sports and performing arts activities. Since 1920, the NFHS has led the development of education-based interscholastic sports and performing arts activities that help students succeed in their lives. The NFHS sets direction for the future by building awareness and support, improving the participation experience, establishing consistent standards and rules for competition, and helping those who oversee high school sports and activities. The NFHS writes playing rules for 17 sports for boys and girls at the high school level. Through its 50 member state associations and the District of Columbia, the NFHS reaches more than 19,500 high schools and 12 million participants in high school activity programs, including more than 7.6 million in high school sports. As the recognized national authority on interscholastic activity programs, the NFHS conducts national meetings; sanctions interstate events; offers online publications and services for high school coaches and officials; sponsors professional organizations for high school coaches, officials, speech and debate coaches, and music adjudicators; serves as the national source for interscholastic coach training; and serves as a national information resource of interscholastic athletics and activities. For more information, visit the NFHS website at www.nfhs.org.
A complete list of the 2023 National High School Hall of Fame Class can be found below and at NFHS.org.
2023 National High School Hall of Fame Class
ATHLETES
Carolos Boozer
Maranda Brownson
Tamika Catchings
Clarissa Chun
COACHES
Sue Butz-Stavin
Barbara Campbell
Ted Ginn, Sr.
Allan Trimble
Sister Lynn Winsor
ADMINISTRATORS
Dave Stead
OTHERS/CONTRIBUTORS
Dave Carlsrud
PERFORMING ARTS
Bill Webb